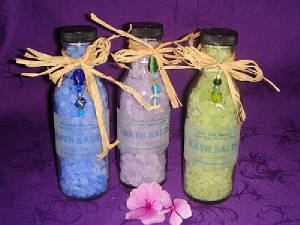 Salt Cay Salt Works
Bubble Bath Salts come in 4 scents and colors.
Blue = Coconut Scent
Lavender = Frangipani Scent
Yellow = Lemongrass Scent
Orange = Mango Scent
We have chosen scents that will remind you of a tropical island, with additives that will create bubbles as you soothe your skin in the bath.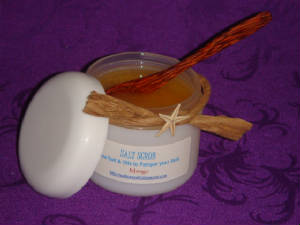 Salt Cay Salt Works
Salt Scrubs are made of Salt Cay sea salt blended with oils, scents and color.
Each container comes with a scoop or spoon
to use to dip a small amount of scrub into your hand as you shower or bathe.
The scrubs will soften dry skin and smoothe rough patches on elbows and heels.
The same four scents used in the Bath Salts are used for the Salt Scrubs.